Click on the images for links to tracks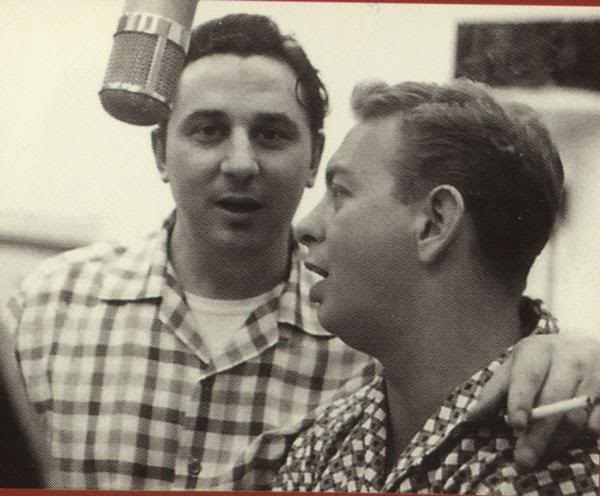 Who was Marty Paich?
When I was younger I liked the album Art Pepper plus 11 but I didn't really pay much attention to who Marty Paich was. As time went on I discovered that this Marty Paich chap was turning up rather a lot on albums & film scores I was liking. Mel Torme Swings Schubert Alley , The Wham of Sam, The Dave Pell Octet ,the score to Flat Liners by James Newton Howard..... and it got me thinking....
Why do Arrangers & Orchestrators end up in the back ground?
I suggest there are a number of reasons. Arrangers are not always the best front men and visa versa. The Talent ,rightly,gets top billing, you have heard of Michael Buble but who does his arrangements? Arrangers don't always write the best tunes but they can often set a good tune brilliantly. Arrangers are like jewellers who know what to do with a stone to show it off in its best light. As an arranger you get to work with many different people and in different styles. Marty Paich worked with some huge names, household names.
Marty Paich (1925-1995)
He grew up in California studied in California & died in California so it is no surprise that he was a key mover in the West Coast Jazz scene of the 1950s and the Film World of Los Angeles. In his 20s he made many records with various sizes of ensemble as a pianist, he could improvise and had great technique but he was not natural soloist like,say,Hampton hates or Russ Freeman. He was much happier writing charts and has a fluidity and swing to his ensemble writing he never could quite emulate in his piano playing in my opinion. His work with Shorty Rogers Giants was key to the west coast sound and the album Cool & Crazy is a cornerstone of the cool jazz style. Marty was the pianist on this date, along with many of the players who would make the West Coast style over the coming years; not least Art Pepper. Marty also played in the Dave Pell Octet,of course, and contributed many great arrangements to the pad. For me his greatest work was with Art Pepper and Mel Torme. It was in Mel that he met a true kindred spirit. Very similar in age, they were also both meticulous craftsmen, both arrangers and performers and they took their starting position from the Miles Davis Nonet, adding an extra trumpet and sax to the line up and leaving out piano, as was in vogue at the time with the likes of Gerry Mulligan.
Here is a list some of the people he worked for
Frank Sinatra, Barbra Streisand, Sarah Vaughan, Stan Kenton, Ella Fitzgerald, Mel Tormé, Ray Charles, Gary Crosby, Spirit, Johnny Rivers, Aretha Franklin, Linda Ronstadt, Al Hirt, Jack Jones, Neil Diamond, Stan Getz, Sammy Davis Jr, Michael Jackson, Art Pepper, Ethel Azama, Mahalia Jackson, Linda Lawson, Toto
a pretty impressive list I think you'll agree.
What do I like about his style?
always a hip swinging vibe
great use of instruments in their best range for a big sound
brilliant counter melodies and backing
master of tension and release
tasteful and never crass
a sense of respect for the material he worked with
If you don't know Art Pepper plus 11 and Mel Torme Swings Schubert Alley check them out.